Ruskin Designer Named Apprentice of the Year
Originally Published: February 2019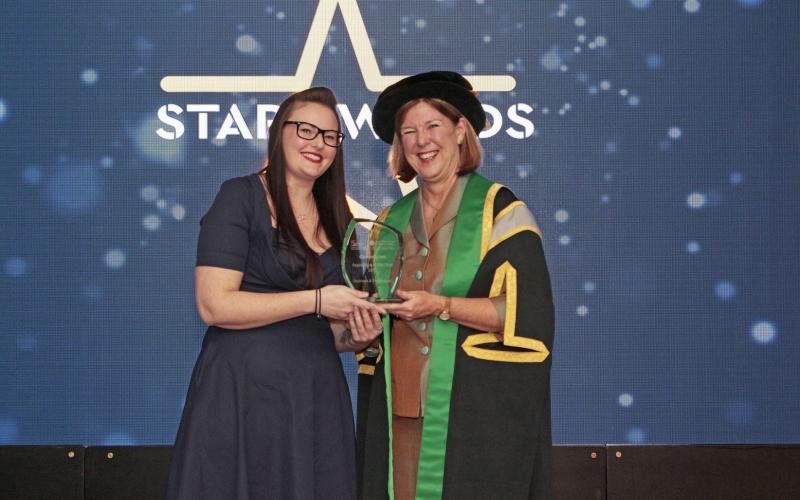 <
>
Upholstery specialists, Ruskin Design, has been celebrating after their designer, Gemma Lee, was announced as one of South Leicestershire College's (SLC) Apprentices of the Year, at its annual Star Awards ceremony.
At an evening of celebration, held at Jury's Inn, Hinckley Island, Gemma received her award as Business & Professions Apprentice of the Year 2018, following a year-long course that gave her valuable knowledge and insight into business practice and leadership skills.
Supported by Ruskin Design's established Apprenticeship Scheme and the company's commitment to empowering young workers within the automotive upholstery industry, Gemma has worked closely with SLC's course leader, Kirsty McNamara, to guide her through the INTERMEDIATE APPRENTICESHIP IN TEAM LEADING course and develop her role as lead designer at Ruskin Design, together with managing the growing team of machinists.
Commenting on her award, Gemma said: 'I'm delighted and proud to have been named as Business and Professions Apprentice of the Year. The course has been exceptionally worthwhile and has given me some lifelong business skills that I'm applying to my roles at Ruskin Design.
'The course has not only given me the confidence to lead the talented teams at Ruskin but the variety of course modules have also given me a firm understanding of the business on a day to day basis – it's definitely been worth it.'
'We are so proud of Gemma and what she has achieved,' said Stephen Castledine, Managing Director of Ruskin Design. 'She has worked so hard over the past year and we are delighted that she has been recognised for her commitment in this way.
'Since Gemma joined the business two years ago we have watched her flourish. We realised early on that she had great potential and would be an asset to the company. She is not only a very talented designer, designing some of our most creative and stylish commissions, but she is also exceptionally organised, measured and diligent. We can't wait to see Gemma's next achievement – and of course, we will support her all the way.'
With her thirst for learning, and clearly a supportive environment, the future is bright both for Gemma and Ruskin Design.
Picture Caption: Ruskin Design's Star Apprentice, Gemma Lee (L), receives her Business and Professions Apprentice of the Year 2018 award from Marion Plant OBE, Principal and Chief Executive, North Warwickshire and South Leicestershire College
Share this article