Turning Up the Heat
Originally Published: September 2014
Words: Mike Trott
Pictures: Mike Trott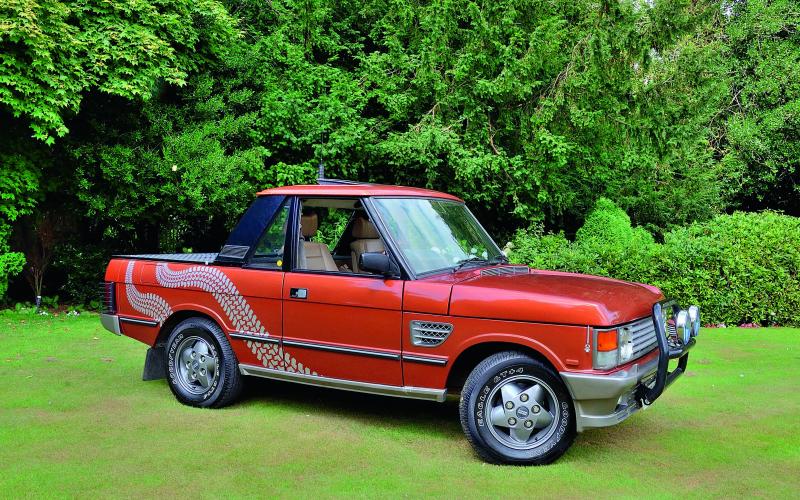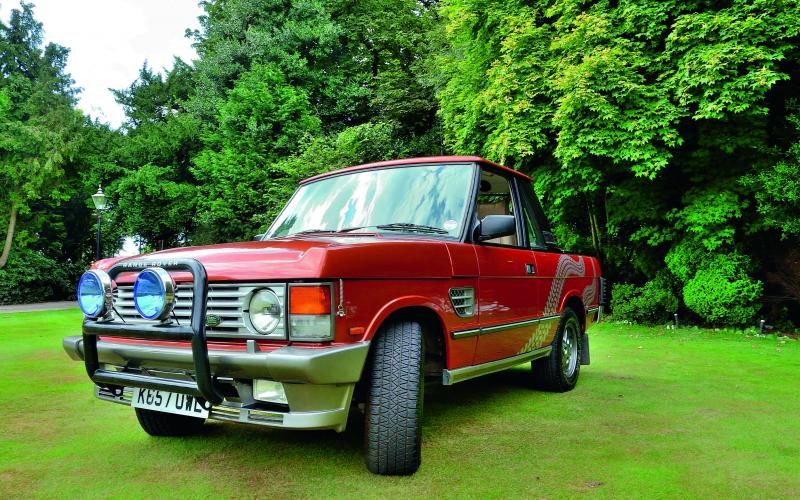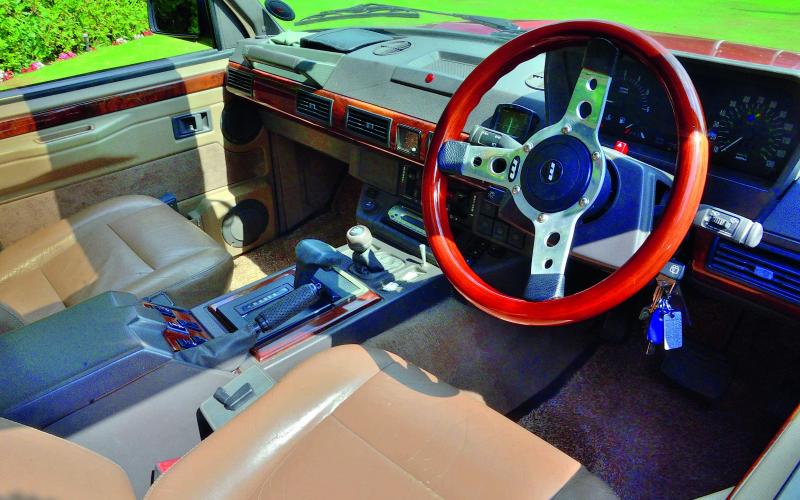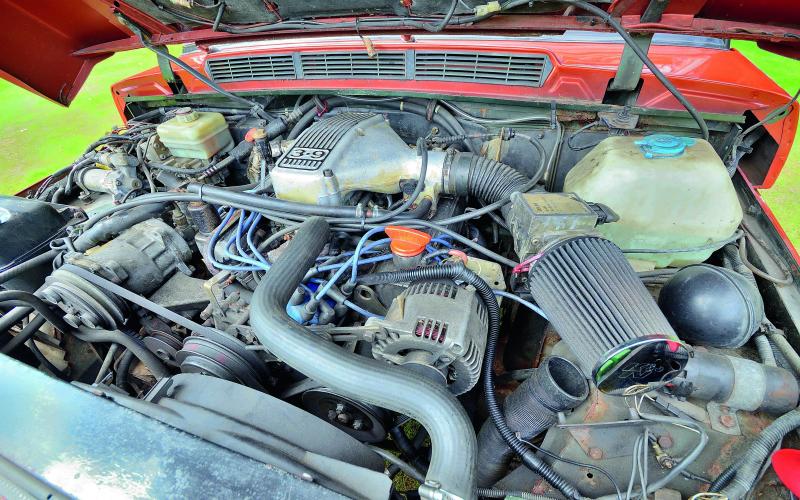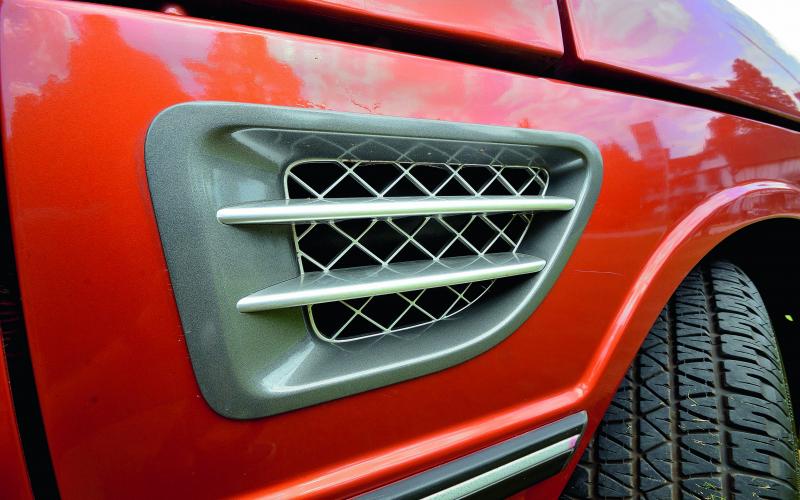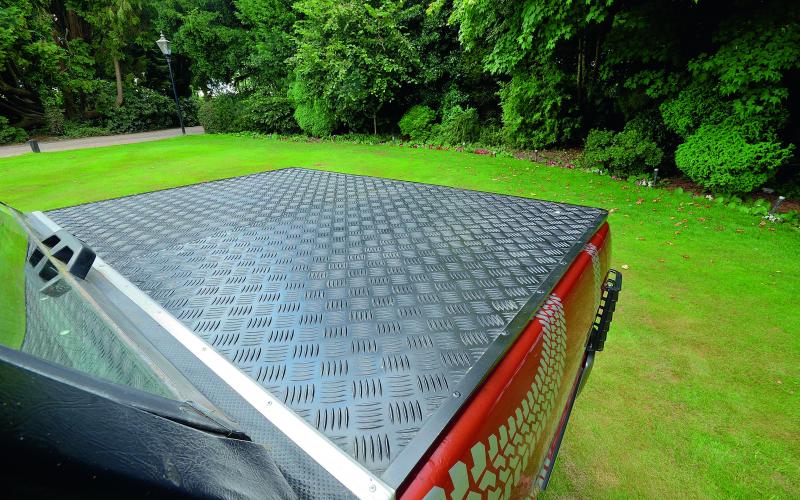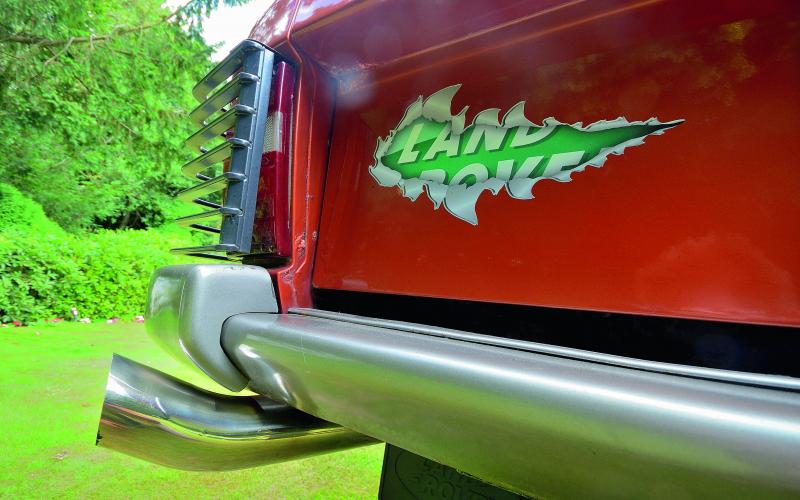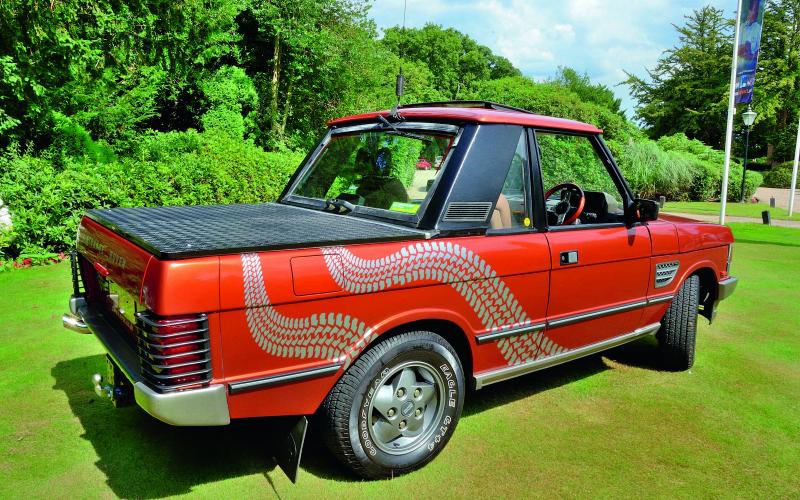 <
>
With its Vesuvius Orange colour scheme, Mike Hayes' unique Range Rover pick-up is already hot. Add a tuned 3.9-litre V8 and lowered suspension, and you've got the recipe for what he calls his 'Ferrari for a fat bloke…'
'I call it my Ferrari for a fat bloke,' says Mike Hayes. And it's not long before I realise why.
We're wafting down some neat country lanes, windows down with the afternoon sun glowing in the sky, when my attention turns to what my ears are picking up. Mike has just unleashed his 'pocket rocket' – and suddenly, we're surging along on a wave of V8 thunder. 
Some people restore Range Rover Classics to mint condition. Others mod them out into rock-crawling monsters. What Mike has created is a lighter, lower, more powerful Mk1 that glides along with a slight pause and reload for gearchanges before detonating onwards through the laws of physics.
Mike claims his pick-up will crack 0-60mph in about 7.0 seconds. That's impressive for a vehicle that still weighs the best part of two tons, even after going through liposuction a few years back. It's not hard to see where the weight was lost.
For Mike, it began in 2006. He'd come across this very vehicle and, taking inspiration from its shape, got himself a donor vehicle in the shape of a 1988 Classic. Funny how things turn out, because in 2009, just before Mike was about to run at his Classic with a chainsaw, the original pick-up he'd spotted ended up for sale on eBay.
Mike bid, won and has since made various improvements to his favourite toy.
'The chopping had been done by the previous owner at his garage down in Devon,' Mike recalls. 'They'd taken four feet off the roof panelling and then moved the tailgate frame forwards. I'd always loved pick-ups and fancied doing something like that myself, and then I got the chance to get this very one!
'It's an incredible vehicle – I love it to bits. The combination of that engine with the Borg Warner transmission is very strong, and with half a ton of bodywork and glass removed it really flies.'
The 'Ferrari' isn't just significantly lighter than the stock equivalent, though. This 1993 Range Rover Vogue SE (no longer a 4dr) has had upgrades less visible than the loss of the back half of its anatomy.
'The previous owner had lowered it, but I noticed it was quite quick when I bought it. I've tried to let the engine breathe a bit more; the K&N air filter and Milltek exhaust have helped with that.'
That's not the only work the 3.9 V8 has had done. The heads have been polished and ported, and a Viper Hurricane camshaft has been fitted. 'Not a bad sounding name, is it!' laughs Mike. 
This is one of three V8s he owns, in fact. He still has that '88 Classic, and a P38 is his daily driver. It's had a gas conversion to help with the fuel consumption and Mike says that's about the only thing left to do on the pick-up.
'You could use it as your daily drive for sure. It's practical, comfortable and very smooth. I know some people give Land Rovers a knock, saying they're not reliable, but think about it. This pick-up's done 150,000 miles, and my other Classic has done over 300,000. Yes, it's had a new engine, but it's pretty much the same vehicle.'
So that's one cliché that he doesn' subscribe to. But there's another one that he agrees with 100%. 'I'm no mechanic, but they're like a big Meccano kit to work on. There isn't much finesse involved – most of the time you can fix a problem by tapping the sensor with a hammer!' 
Not that a Range Rover Classic pick-up would ever look ordinary, but Mike has really impacted his personality on to the vehicle since he got it. The tyre track decal running down the body was designed by Ruth Smith at Damson Creative and the Mountney hardwood steering wheel was chosen to match the Vesuvius Orange paint. That fiery colour scheme is actually from the Range Stormer – Land Rover's first ever concept car, which introduced the world to the Range Rover Sport – whose engine bay gills have been borrowed for Mike's Classic, too.
'I built the lockable hardback cover, which is now on gas struts. It helps protect the back end a bit more in the winter. Nationwide Trim had
re-done the headlining previously and it was done properly too. It used to sit on the old Vogue alloys, but I switched them for some wheels I bought on a whim a few years ago. I had them shot-blasted before powder-coating them in glossy black, and then applied a layer of lacquer.'
Mike has taken the front propshaft off more recently because he 'fancied a bit of drifting.' Making it a rear-wheel drive has apparently made it a little friskier and, at the same time, improved fuel consumption. He gets 22mpg from a twenty-year-old Land Rover V8!
It's not always fun and games, though. Or maybe it is, in Mike's world.
'It makes a great tow vehicle. I've even out-dragged people with a caravan on the back! I get some funny looks sometimes, but then my wife reminds me I'm driving a bright orange Range Rover pick-up…'
Or is he? This is, after all, his Ferrari for a fat bloke, isn't it? Not that you could tow with one of those, of course. And while most Ferraris are indeed as shiny as this particular Range Rover, you'll never, ever find one as distinctive. Or, indeed, as cool.
Share this article