Disco 4 Towing: High Tech or Old School?
Originally Published: May 2014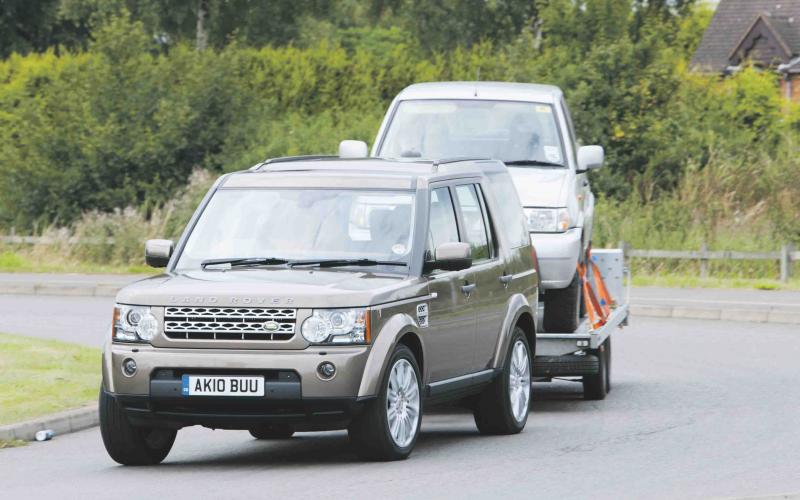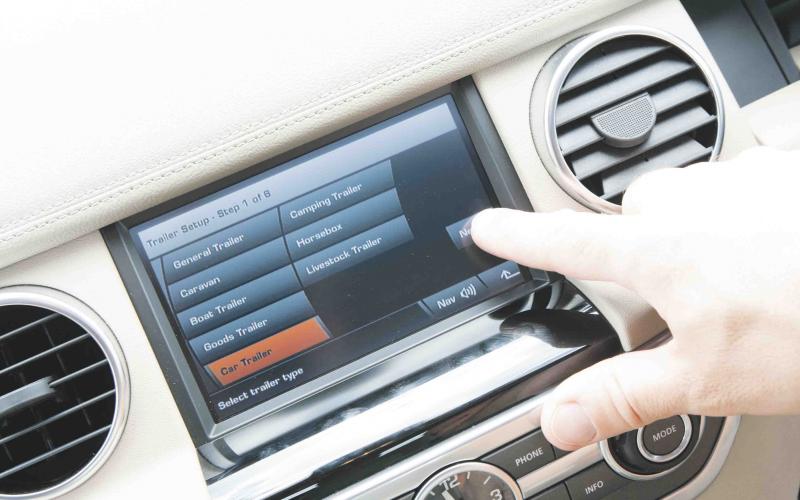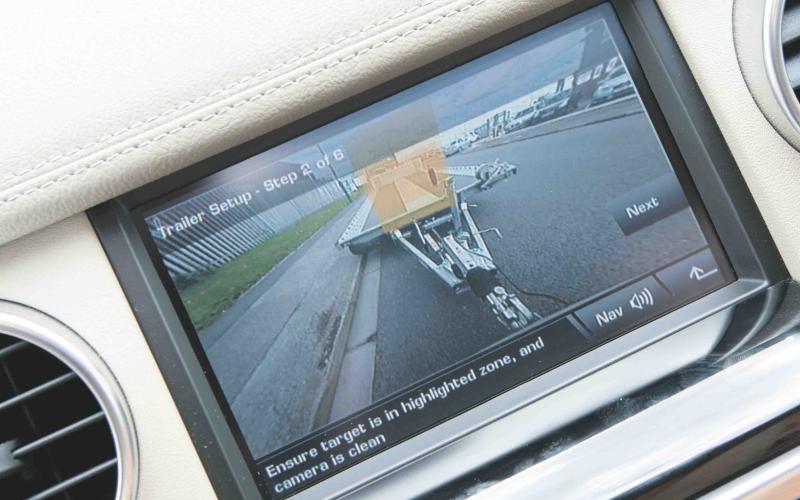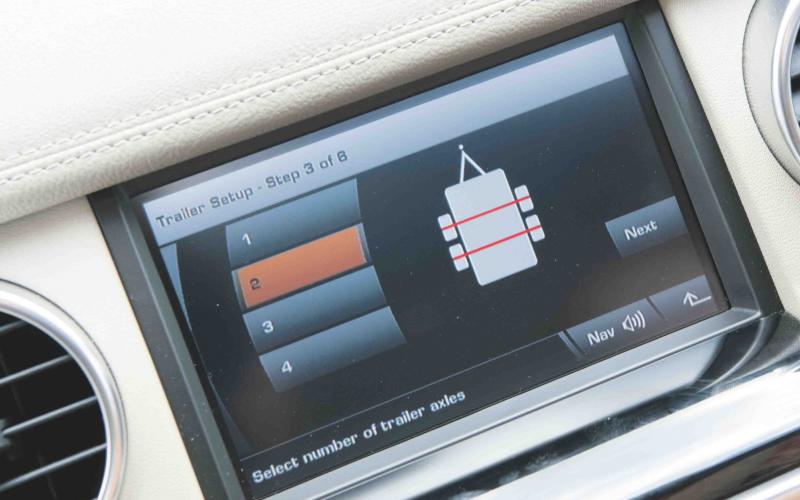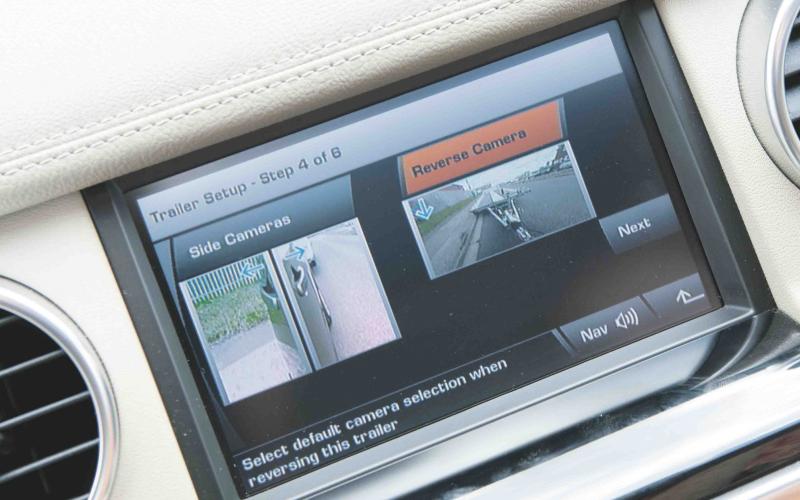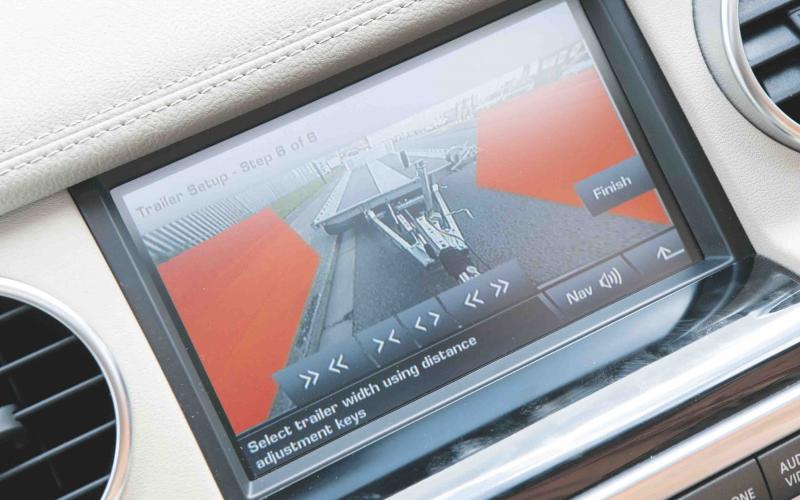 <
>
There's no such thing as a Discovery that's bad at towing. But the latest
models go about the job armed with an arsenal of high-tech gadgets designed to make them even better. Is that what it takes now to keep the Disco at the head of its class?
If you're a traditional Discovery driver, you might well have been drawn to the vehicle because although it's much more of a family car than the Defender, it's still a truck at heart. Even the Disco 3, with its independent suspension and high-tech design, still had the doughty image of a vehicle built to do a job.
What that job is varies from owner to owner, but for many it involves towing. This is something the Disco has always done very well, and Solihull has reason to say the current Disco 4 does it better than ever.
That's because it knows when you've hitched up a trailer. And before you drive away, it'll invite you to set it up to suit the rig you're asking it to tow.
Here we were just expecting the splendid 3.0 SDV6 engine to be what would make the difference. But having plopped our trailer on the Disco's towball, we were met by a message on the central display. Looks like you've attached a trailer: tell me more…
Thus prompted, we were led through a 'trailer setup' process which, as far as we could tell, is designed to trim the vehicle's rear-view cameras (you know, those) to suit the exact width, length and proportions of your rig. Is it a horsebox or caravan? How many axles? By the time it's finished with you, it'll know.
Of course, people have been towing big rigs perfectly well for decades without any of this. And hand on heart, we can't say we noticed any difference in the way the vehicle drove. We weren't about to try and provoke a tank-slapper on the public road to force its hand, though, but every model in the Disco range has Trailer Stability Assist as standard, so it'll intervene with the brakes to try and bring it back should you get a wobble on.
At any rate, we've found before now that rear-view cameras are a useful aid to trailer reversing. So we wouldn't dismiss any system that lets you adjust it to be as useful as possible.
We've also had problems with some vehicles' air suspension in the past. But the Discovery's didn't need any special treatment, adjusting itself without a fuss as we loaded up and behaving as it should throughout our test.
This meant a stable experience on the motorway, with minimal shunting and no issues at all when changing lane. We felt it a bit while accelerating up the slip lane, but should you feel like taking your chances with the law, you could set your cruise control to 80mph and tool along happily without ever even noticing there's a 3.5-tonne load hooked up to your back end.
All this is aided by a 150kg noseweight which allows you to position your load well forward on its trailer. If all you're hauling is a caravan, you'll struggle to get anywhere near that, but with another 4x4 on a heavy-duty transporter, being able to sit it well forward makes a world of a difference.
So too do good brakes, and the Disco's big, vented discs could take it down an Alpine pass at GTW without fading. In the altogether less exotic surroundings of, well, Derby, we found that they pulled it up really smartly when asked, with no significant body movement as three-plus tonnes of trailer bore down on them.
Similarly, that heavy, commanding chassis is as unruffled as you'd expect when pulling a rig through corners. Even over really bad roads, the trailer's movement doesn't transmit itself into the vehicle's body, with masterful control from the back shocks keeping it taut whatever you throw at it. You do feel some joggling as the trailer's wheels crash their way through pot holes and broken road surfaces, but though this can be unsettling to you as a driver, the vehicle itself just shrugs.
Around town, where visibility is all, it won't surprise you to hear that the Disco's epic driving position stands it in very good stead. Looking back and down at your trailer is much easier than just looking back at it, so judging its position on the road as it follows you is no problem. Of course, this is one reason why 4x4s are the best tow vehicles on the market, and it stands to reason that what makes them all good will make the Discovery best, since it's got the most of it. The vehicle's basic design certainly does way more for the overall towing experience than those rear-view cameras, at any rate.
And there you have it. The Disco is a towing legend because back then, it pulled like a 100" Defender with a nice cabin. Which is what it was. These days, there's a lot of gadgets on it that even the Defender of the future won't have (please God). But at the end of the day, what makes the Disco so good in front of a trailer is that it's a big, heavy truck just like it always was.
Whether the Disco is the best tow truck of them all is down to personal choice (and whether you have forty grand). Make that sixty if you want the full luxury kit, but as noted above every Disco gives you all the stuff that makes it such a fine tow car.
Which, of course, might be exactly what you want. Especially if you're a traditional Disco owner. Because while you like a bit of comfort, all you really want is a truck that gets the job done. And you won't be disappointed.
Share this article