A Very Big Car in the Country
Originally Published: June 2014
Words: Paul Looe
Pictures: Harry Hamm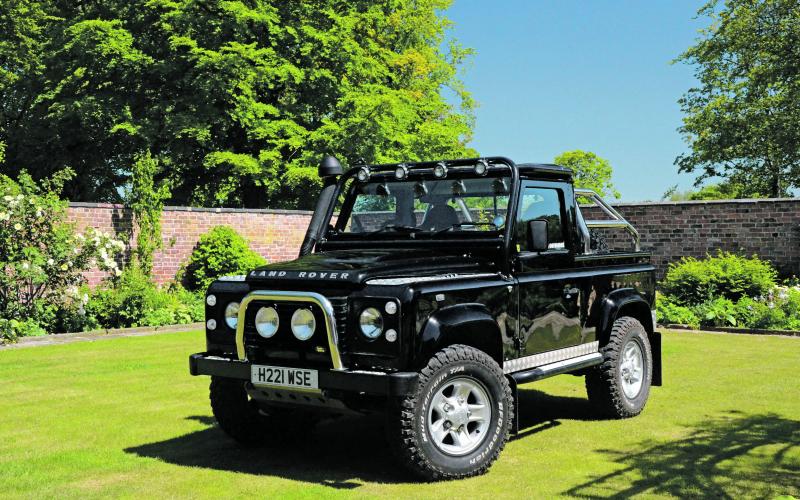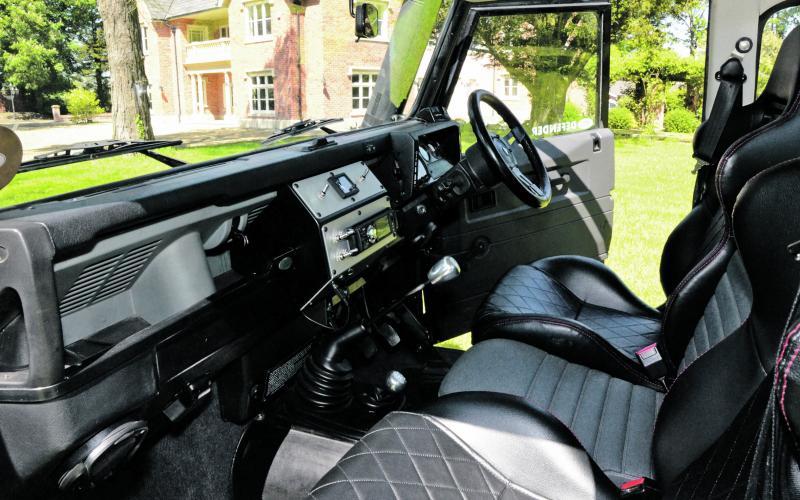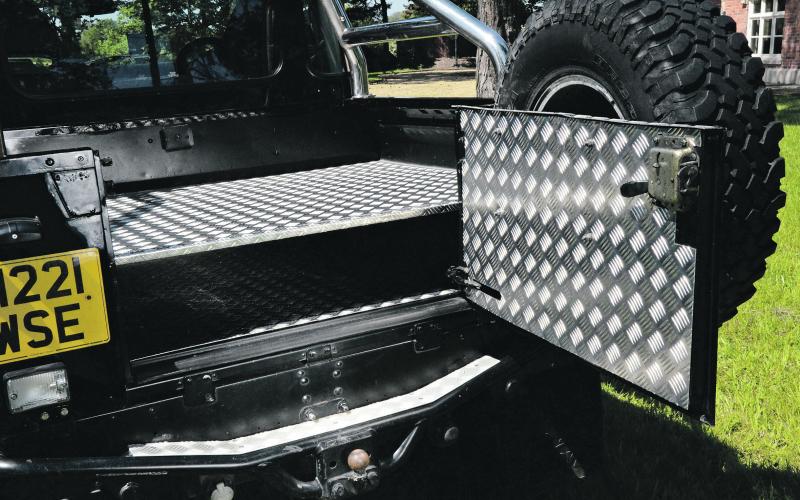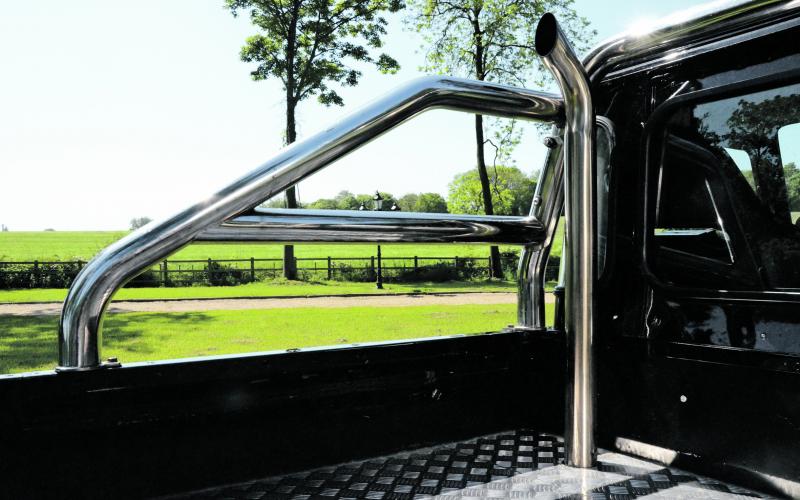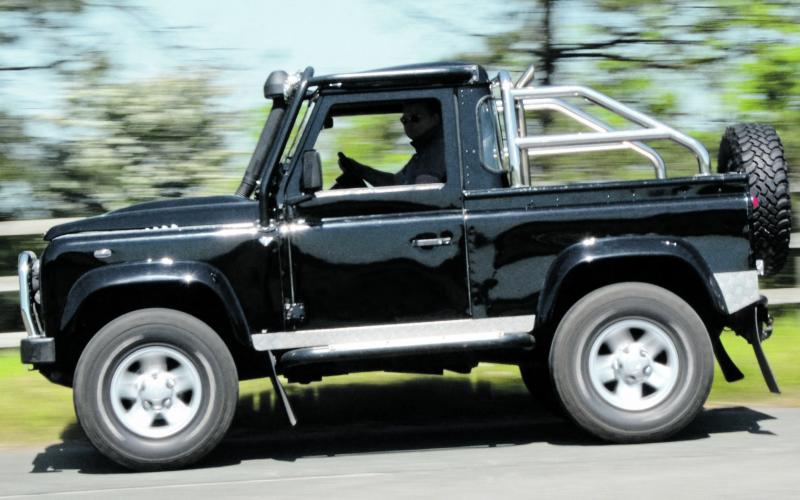 <
>
Driving a string of desirable performance cars didn't stop John Duerden from dreaming about one day owning a Land Rover. So when he finally moved out of the city and became a country-dweller once again, this farmer-turned-stock-trader knew exactly what he wanted to put on his driveway…

When John Duerden moved to the countryside after spending five years in the urban hubbub of Manchester, the first thing he did was revisit his farming roots with a purchase of the 3.5-litre V8-powered kind. The vehicle in question, a Defender of some note, has a straight-through exhaust exiting behind the cab via a vertical stainless steel stack, and would struggle to be anything else.
It's fair to say that in John's hands the 90 has become a Landy of the street machine persuasion. But it wasn't always like that. He's the third owner since it began its transformation from a tired old farm truck – each has played a role in turning it into the eye-catcher it is today, but the guys who kicked it all off were as willing to rag it in quarries as cruise it around town. In fact, the evidence is on show for all to see on YouTube, as well as the newly fitted V8's hillclimbing ability.
Newly fitted, yes. Despite dating from the era when the V8 was still on Land Rover's price list as part of the Defender's engine line-up, John's truck started out as a 2.5 diesel. Meanwhile, the engine started its life in a Range Rover and was adapted to slide in beneath the 90's bonnet, where it mates to the original LT77 gearbox and LT230 transfer case. It was also adapted to run on LPG.
Downstream of here, a set of new propshafts in standard spec mate to the original Land Rover axles. 'Original', in this case, means the vehicle has the old-style drum-braked rear as well as two-pin diffs, as opposed to the four-pin units that would have been used on a factory-spec V8.
That didn't stop John from dressing the hubs with a set of 16" Boost alloys and 265/75R16 BFGoodrich Mud-Terrains, however. These go with a cheerfully lavish metallic black paint scheme to make it instantly obvious that this is no everyday 90 – not that the chrome styling bar up front that battles for attention with the stainless steel chimney behind the cab will have left you in doubt.
Much of the vehicle is there to look pretty, but that doesn't stop it being as practical as any other short-wheelbase truck-cab. More so, in fact, thanks to a nifty loadspace cover John made up himself by folding chequer plate around a sheet of ply, creating a false floor that protects the cargo beneath by keeping it out of sight and out of mind. The materials cost 'a few quid' (he might trade shares for a living, but he's from a farming background) and the effect is as good as you'd get from a proprietary product costing hundreds.
Having got round the difficult task of positioning a hole in the cover to fit snugly around the exhaust stack and dropped the finished sheet into place on the wheel boxes, a bead of silicon sealant all round the edge keeps the compartment below it from turning into a dank cave with a mouldy roof.
The visual effect, which relies largely on you liking the look of ally plate, is finished off by a similarly clad tubular bumper extension on the rear crossmember. There's more of the same beneath the standard-fit sills – 'beneath,' rather than 'instead of,' because the originals are retained (clad, naturally, in chequer plate).
There's yet more of the stuff on top of the original-style front bumper, which is also home to a tubular A-bar in eyeball-searing stainless steel. Evidence of the vehicle's off-road past comes in the shape of heavy-duty diff and steering guards, then up on top of the front wings you'll find, who'd have thunk it, chequer-plate protectors. These house a pair of KBX Hi-Force vents for the heater intake, adding further to the street machine image.
So too, in a very Land Rover sort of way, does the external roll cage. Unless you're a scrutineer, in which case it would give you a fit. It's only attached to the body (the front wings just ahead of the bulkhead, and the rear of the roof) so although it might well save your life if you go over slowly, it's not going to keep the vehicle up in a mighty one. It'll help protect the cab from trees, though, given the chance, and provides the perfect mount for a set of four LED spotlights. These have integral ring-shaped daytime running lights which, by the wonders of Amazon, cost John a tastily modest forty quid for the lot.
The Mantec snorkel next to the right A-post is safely plumbed to the airbox, so if John were somehow able to get into water that deep without his HT system waving the white flag, his engine would at least live to fight another day.
As we've already established. John has not been slow to stamp his own mark on what was already a distinctive truck. His most recent addition is a pair of brand new Recaros, and further groovy gear in the cabin includes a sports steering wheel and a Raptor Engineering centre console, in which sits a DVD stereo with Bluetooth and iPhone dock. On top of the dash sits his phone displaying real-time movements in stock market prices.
This, then, isn't your average story about a man from farming stock who's rebuilt a 90 for his everyday car. It's the tale of someone who loves his toys and, having found a Land Rover that was well on the way to being just what he wanted, was ready to roll up his sleeves and take it the rest of the way.
But it's a story with a twist. A couple of weeks after we went to see the 90, John sold it.
Why? Well, he turned a handsome profit on it, which being from farming stock is in his blood. More to the point, no sooner had he finished the 90 than he became a dad – and though truck-cab 90s have many talents, transporting a growing family isn't one of them.
Not that that's the end. 'I'd always prefer an old 90 to a Range Rover Sport or something like that,' he says. 'It doesn't mean it's a dream car to drive or it's well designed or anything. But it's keeping it real. There's just nothing like it.' So the space in John's garage is unlikely to be empty for long.
Share this article